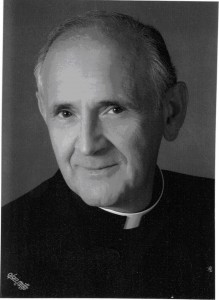 Father Albert J DeGiacomo "Father Al" assumed the post of Pastor at Saint Andrew Catholic Church in Harrodsburg and its mission, Saint Mary Catholic Church in Perryville on August 6, 2015. He will be installed into that office by the Bishop of Lexington, the Most Rev. John Stowe, OFM Conv., during the 11:00 AM Sunday Mass on August 16.
Fr. Al was born Albert Joseph DeGiacomo on May 1, 1950 in Cambridge, Massachusetts, the only child of Josephine Giampapa (1910-1980) and Albert DeGiacomo (1911-1997). He studied at Boston College in Chestnut Hill, Massachusetts, where he graduated Bachelor of Arts in English and Theater in 1973 and Master of Arts in English in 1979. He taught English at Bishop Fenwick High School in Peabody, Massachusetts, from 1974 to 1980 and chaired the English Department there from 1979 to 1980.
In 1980 he entered the New England Province of the Society of Jesus. He was sent by the Jesuits to study Philosophy at Loyola University Chicago (1982-1984) and to teach English at their school in Fairfield, Connecticut, Fairfield College Preparatory School (1984-1986). He left the order in 1987 and returned to Bishop Fenwick High School to teach for a year. He then went back to study at Boston College and received from the school his Master of Arts in Pastoral Ministry in 1989.
He finally pursued his passion for the theater at the Department of Drama of Tufts University in Medford, Massachusetts, studying and teaching there until he earned his Doctor of Philosophy in Drama in 1993. He then taught as an Assistant Professor of English at Mount Aloysius College in Cresson, Pennsylvania, from 1994 to 1998, and as an Associate Professor of English and Theater at Berea College in Berea, Kentucky, from 1998 to 2005. In 2003, his book TC Murray, Dramatist: Voice of Rural Ireland, was published by Syracuse University Press in New York.
In 2004 he was accepted as a seminarian for the Diocese of Lexington and was sent to study at Sacred Heart School of Theology in Hales Corners, Wisconsin. He also earned a Certificate in Spiritual Direction from Creighton University in Omaha, Nebraska, during that time. He received his Master of Divinity from the seminary in 2008 and was ordained to the Priesthood on May 17, 2008 by the Most Rev. Ronald W. Gainer, the second Bishop of Lexington, at the Cathedral of Christ the King in Lexington, Kentucky.
Fr. Al first served as the second parochial vicar for a year (2008-2009) at the Cathedral of Christ the King under the then Very Rev. Mark D. Dreves, before he was then assigned to be the Pastor of Holy Spirit Parish, the Newman Center at the University of Kentucky. He ministered at the Newman Center from 2009 to 2015 and had as his parochial vicars his predecessor hereat Saint Andrew, Fr. Noel F. Zamora (2009-2010), and his successor there at the Newman Center, Fr. Stephen L. Roberts (2010-2015).
During his six years at the Newman Center, the campus missionaries of the Fellowship of Catholic University Students (FOCUS) began their ministry at the University and the Knights of Columbus formed the parish's John Henry Newman Council 15452. Fr. Al also introduced new religious artwork and kneelers into the worship space and had the parish website updated. In 2014 he presented the first Marguerite McLaughlin Awards to the students and lay volunteers who have made significant contributions to the Newman Center.